Related Items
Customers who bought this item also bought:
Specifications
Xerox 106R00669 106R00669 specifications:
Note: These specifications are provided by a third party as a courtesy and should not be relied upon to accurately describe an item. BLT is not responsible for any information appearing in this section of the website. Consult the manufacturer's website for complete information on an item before purchasing. This is all the information we have for this item. If you need more, please contact the manufacturer.

Return Policy:
Standard BLT Return Policy
Technical Information
Description:
Toner cartridge is specially formulated for increased print consistency and continuity even on rough papers. Ensure extraordinary print quality and superior reliability. Cartridge is designed for use in Xerox Phaser 6250.
Packaged Quantity:
1 Each
Product Type:
Toner Cartridge
Print Technology:
Laser
Print Color:
Magenta
Typical Print Yield:
4000 Page
Compatibility:
Xerox Phaser Printers:62506250B6250DP6250DT6250DX6250N
Recycled:
No
Recycled Content:
0%
Post-consumer-waste%:
0%
Assembly Required:
No
Country of Origin:
Japan
Package / Shipping Information
Length:
15.60
Width:
3.30
Weight:
0.85 lbs.
Manufactured In:
Japan
Image Gallery
An image may be a reasonable representation of the product and not the actual item. Click an image to see it full size in a new window.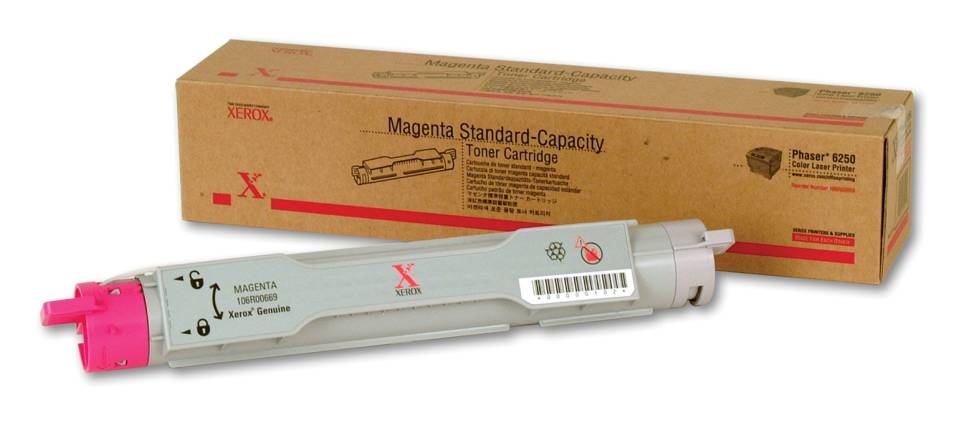 Equivalents / Alternates
Xerox part number 106R00669 is also cataloged under other BLT item number(s). In the majority of cases, the item described above and those listed here are the same product, which we obtain from different sources. Sometimes, however, a manufacturer uses the same part number across a range of products. Pricing may be more or less on these items, as our cost may differ. Sometimes the item is on sale, noted with a green "on sale" tag.
Here are the items with the same manufacturer's part number:
Reviews
This section of our site is only for reviews of this item. If you wish to commment on anything else, please contact us via e-mail. Comments that are not reviews will be deleted.